Fantasia CS
Welcome to Fantasia Class. This page is to introduce you to the staff who will be working with your child and to keep you informed of the exciting and magical things we do in Nursery. Nursery as a whole is called Fantasia class and has 3 key worker groups; Mickey's Green, Yellow and Blue stars.
Nursery is where your child starts their magical learning journey.
Meet the Nursery Team
Miss Shingler Mrs Riley Miss Delves
Welcome to Fantasia! This page is intended to help you feel involved and informed of everything that we do. Please take the time to explore our page where you will find lots of important information about home learning.
Please see your child's home learning activities below for the week commencing Monday 23rd March. Your child is expected to complete three activities each day. To ensure your child can gain the maximum home learning experiences, please keep to the required activities, this includes enjoying the outdoors, exercise, creative learning and sharing stories with your family too.
We will ensure to keep this class page updated weekly with information about your child's home learning education.
Dough Disco- https://www.youtube.com/watch?v=3K-CQrjI0uY&t=34s
https://www.youtube.com/watch?v=i-IfzeG1aC4&t=36s
This week all home learning tasks will be set on Education City using your child's log in (found on the front cover of your child's communication diary).
Every morning please use the Joe Wicks Boot Camp links below to complete exercises with your child…
Monday - https://www.youtube.com/watch?v=d3LPrhI0v-w
Tuesday - https://www.youtube.com/watch?v=SbFqQarDM50
Wednesday - https://www.youtube.com/watch?v=pnKCGY9ZocA
Thursday - https://www.youtube.com/watch?v=fAUckPMJKSY
Friday - https://www.youtube.com/watch?v=rN0h6EZd6TM
Every afternoon at 3pm, Staffordshire Libraries will be streaming a story for you to listen to with your child. Streaming will take place via their Facebook Page – Staffordshire Libraries. Click on the link below to access their Facebook page.
https://www.facebook.com/staffordshirelibraries/?__tn__=%2Cd%3C-R&eid=ARDJQq3dcGAXZTjxCpnNJlYgjnWxJYUnftQRT3sD7QZ7tgwb5aDxh7ks78N4F_nLErhH_5QzLaWYJRcm
As part of our work in school with the English Speaking Board we will learn a Nursery rhyme over the term, linked to our topic. We will perform these to the school in a special assembly. The rhyme is:
I can sing a rainbow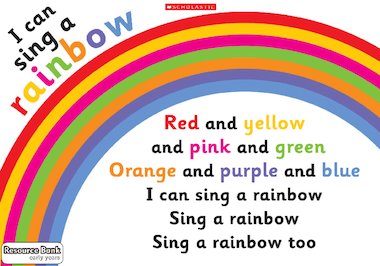 The books we are using this term are:

We use our Cinderella communication to retell stories and sing rhymes linked to our topic.
Homework
Follow these links to support your child at home.
Take a look at our MAGIC learning!

How can you help your child at home?
Click here to read our newsletter
Click here to read about our homework
You could also use the above Apps to support your child's learning at home.